The Tutoring Company receives global education award!!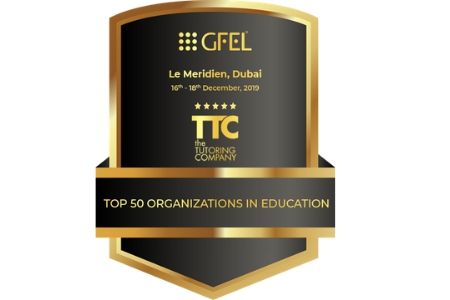 What an honour!! The Tutoring Company has been awarded "Top 50 Organisations in Education." We are the only Australian tutoring organisation to receive this award!!
Being presented with the award in front of an audience of global leaders in education at the GFEL Conference in Dubai was very humbling.
The three day conference covered many aspects concerning current trends and topics in Education. Jenny's expertise and understanding of education was recognised as she was invited to be a discussion panel member on the topic "The New Literacies: Data Literacy, Spatial Literacy and Cyber Literacy." Listening to the many speakers from around the world was incredible and we hope to bring some of this knowedge back into further developing our services.
The Tutoring Company received this award based on a number of factors, including our unique approach to assisting students. We focus on delivering personalised and explicit tutoring based around a student's particular needs. We do not deliver pre-prepared content, nor do we have our own curriculum. It is our belief that tutoring should supplement the curriculum taught within schools and aid students in resolving issues they may have in understanding this curriculum.
The award recognised home-based and online tutoring services and the ease of use of the online platform. Online tutoring effectively uses a "virtual classroom" to provide tutoring to students around the world. Australian students unable to access home-based tutoring also benefit from the online tutoring services.
Most importantly, the award also recognises the high standards of our tutors and their ability to deliver exceptional tutoring. We are very particular about the tutors we employ, many of whom go on to become, or already are, teachers in Australian schools.
We are dedicated to maintaining our high standards and to ensuring that our students receieve the best possible tutoring experience. We are also dedicated to supporting parents and working together with schools.